By Kim Cook
for RESIDENTIAL PRODUCTS Magazine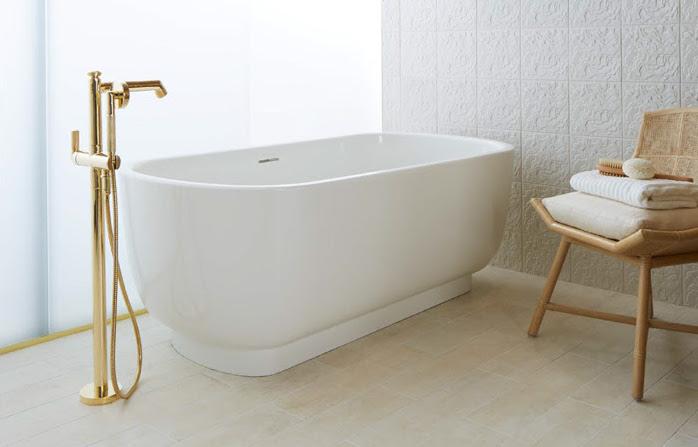 Kallista soaking tub with brass faucet
You might say that within the Kohler family, Kallista is the glamorous sister. Even the name gives a sense of the brand: It's Greek for "most beautiful."
Partnering with some of the best interior designers and architects in the business, Kallista has created a reputation for sophistication and style-forward bath and kitchen products.
Launched in San Francisco in 1979, Kallista has developed their collections around the idea of artful living, blending design concepts, decorative elements, materials, and high-end finishes. Design Studio Manager Bill McKeone says the brand earns its "luxury" label by balancing several key things.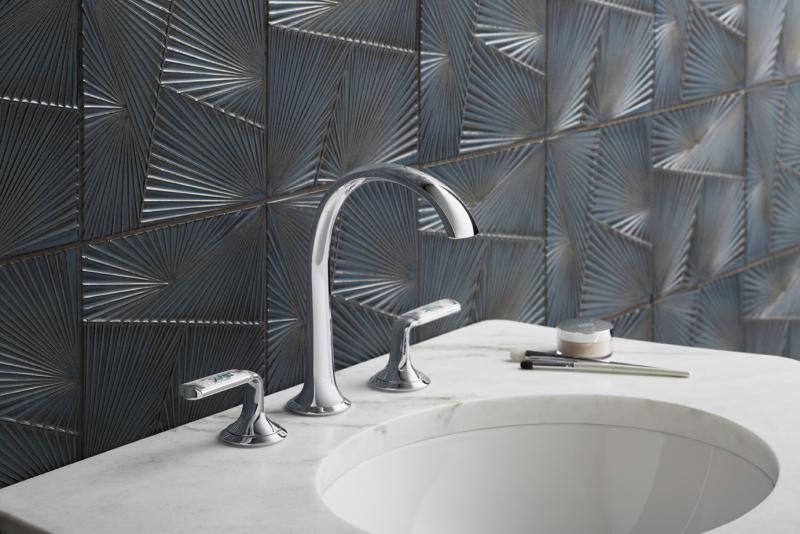 Kallista Script
First, they're careful not to push the artistry aspect too far.
"We're very conscious that the designs have longevity, aren't just of the moment, and won't go out of fashion," McKeone says.
The second consideration is materials.
"We do embrace unique materials, like leaded crystal, exotic stones—even unique metals—within our designs," McKeone says.
And the third factor is highly skilled manufacturing techniques, which McKeone says Kallista is always honing.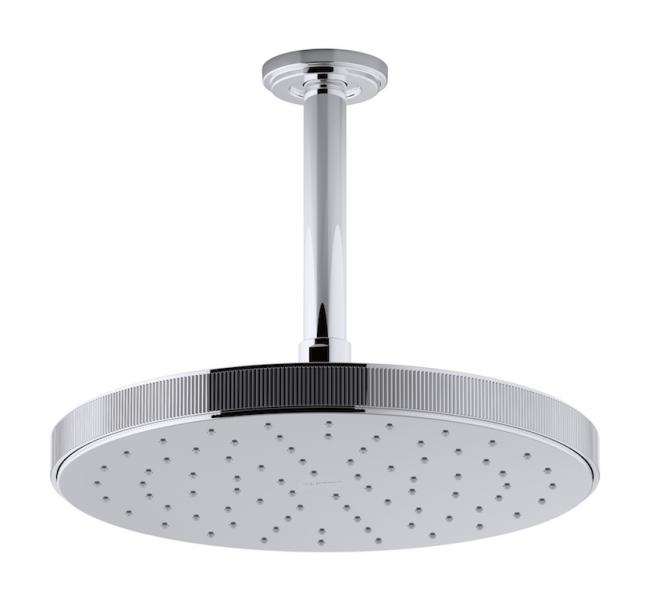 Vir Stil Raindome by Laura Kirar
"These advanced processes allow us to accomplish details and design elements that weren't achievable in the past." For example, he says second-generation air-induction and TurnSpray technology give users powerful, user-friendly showers.
And on the design side, McKeone points to Laura Kirar's Pinna Paletta collection, with its intricately etched details that evoke thumbprints, textile motifs, or feather striations.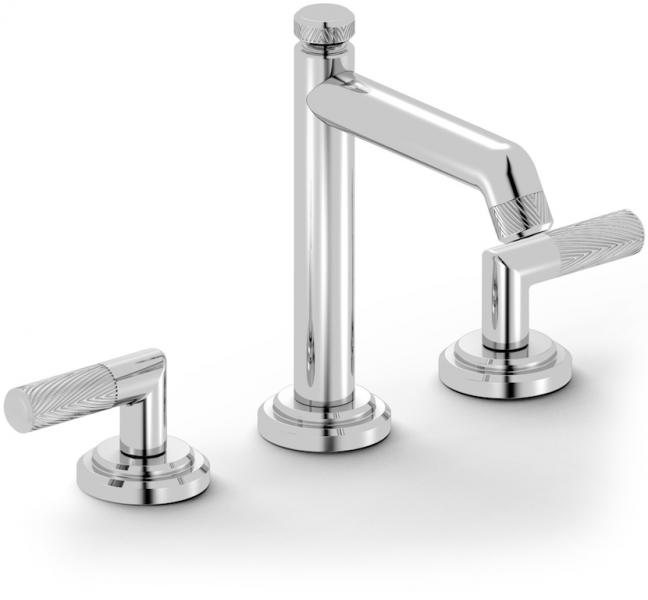 Laura Kirar Pinna Paletta faucet
"The blush-bronze finish is another example," McKeone says, referencing a new addition to Kallista's collection of Living Finishes on natural brass that are allowed to develop patina and tarnish over time.
Blush bronze has a warm, golden color, like sunset on a desert and McKeone says it "was important to create a luxury finish that broke away from the reds usually associated with rose gold."
Kallista has teamed up with some of the industry's stars over the years, such as Barbara Barry, Mick de Giulio, and Michael Smith. McKeone says they bring a different perspective to the brand.
"These are principled and practiced designers who see rooms through a different lens," McKeone says. "Will the faucet design work with a particular tile on the wall, or a stone floor? Does the floor plan engage with the products, in a flow that's pleasant to the eye and also makes sense to the user?"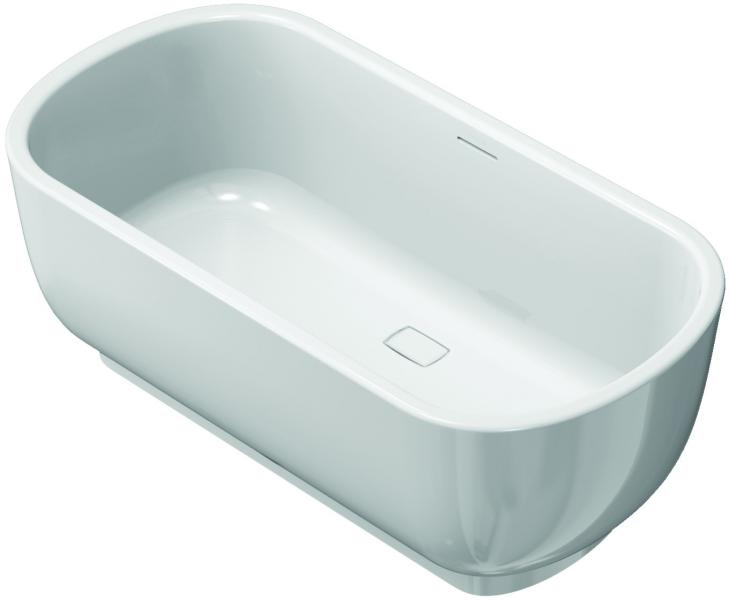 Freestanding bath by Laura Kirar
De Giulio's Bacifiore sink has a polished, distressed finished that gives it an artisanal look. Using a hammering technique, the undulating surface texture and finish is created by hand, and then polished to a high sheen to enhance the handcrafted pattern.
Michael S. Smith's For Town Bleu de Chine marble sink is a showstopper. "What's amazing is that the sink is carved from a single piece of stone," says McKeone. "Then we use an advanced design manufacturing process to shape the sink into its final form.
"The underlying shades of color take it to an entirely new level—very cool grey, with varying shades of blue," McKeone continues. "Greys are so popular now in design because they can go either warm or cool, and they break away from the starkness or simplicity of white without going too far."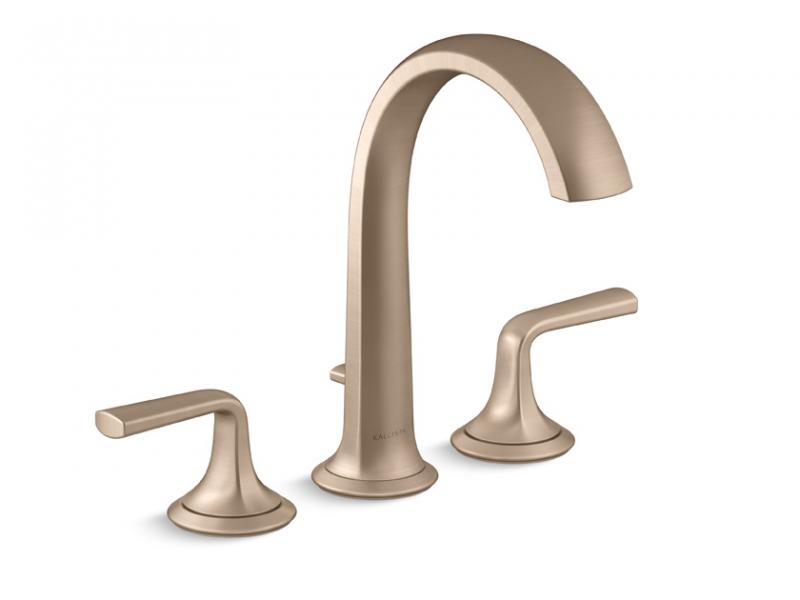 Kallista Script facuet
Kallista offer several pieces that are the epitome of that well-used term "bath jewelry." Smith's For Loft sink faucet set features lustrous black crystal knobs cut like diamonds. Paired with a polished black nickel faucet, the effect is understated and chic, like a little black dress.
In the Script Decorative collection, enameled hand-painted handles are reminiscent of Victorian era cloisonné. Master craftsmen in France's Saint-Louis cristallerie, the oldest glassmaker in Europe, create hand-cut crystal knobs in a deep royal blue. And 24 karat gold flake meets crystal in the Per Se knob handles.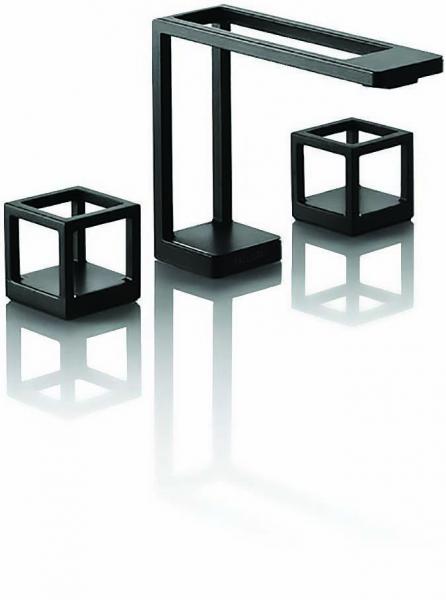 Kallista Grid sink faucet
In validation of Kallista's reputation in the design world, the brand won Bath Gold and Best of Show at KBIS for its new Grid faucet and fixture collection. The faucet is produced using 3-D printing technology—exactly the kind of audacious and innovative design for which the brand is known.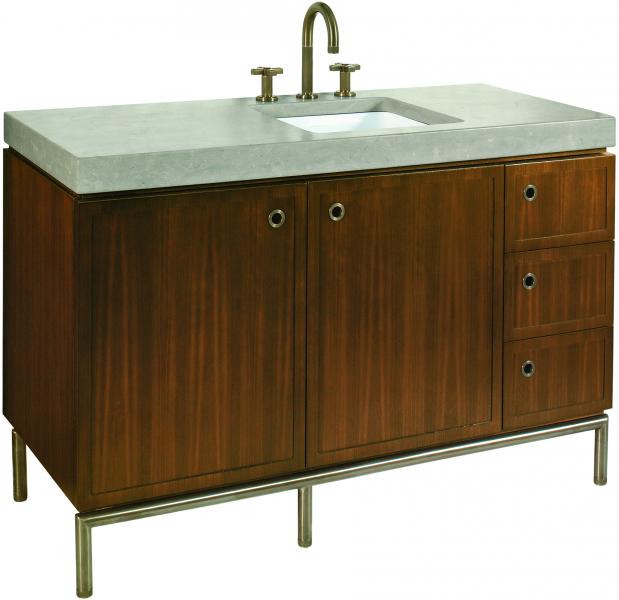 Kallista Vir Stil by Laura Kirar
See others in my PRODUCTS magazine's series on luxury brands as originally published: